Frequently Asked Questions
What is domestic adoption?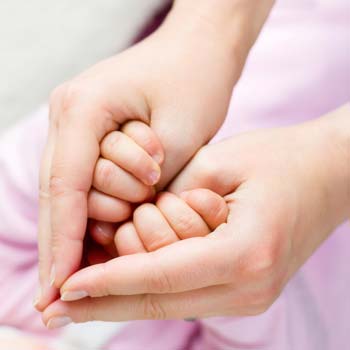 Domestic adoption is the permanent, legal transfer of parental rights and responsibilities for control and custody of a child from the birthparents to the adoptive parents within the United States.

What is the legal adoption process?
Domestic adoption consists of five parts:

2. Match with Birthmother;
3. Placement and Termination of Parental Rights;
4. Post Placement Supervision;
Can we be undergoing fertility treatments while in the adoption process?
No. We ask that while we have a couple's profile active to show birth moms, that the couple refrain from undergoing fertility treatments at the same time. Once your adoption is finalized, you are free to resume them or, let us know to mark your profile as inactive while you are undergoing them.

What if we become pregnant during the adoption process?
If you become pregnant, please let us know immediately. We can put your file on hold if you will be adopting in the next year or so. If you are already matched with a birth mother, you will need to notify her.

Our goal is that every child be in a fully functional family in which the family has the resources to care for each child. If you do become pregnant and have not been matched with a birth mother, please contact us after the birth of your child and we can discuss your adoption plans. We believe it is best if each child enters the family at least one year after the other.
Whoever welcomes one of these little children in my name welcomes me Mark 9:37a

Why choose open adoption?
The purpose of open adoption is to comfort and encourage the birthparent with the knowledge of her child's well-being. It provides answers for your child, minimizing their loss of relationships by maintaining and celebrating the child's connections with all the important people in his/her life.

Open adoption also empowers you in raising your child, by providing knowledge about your child's birth family and their family medical history.

What type of families does Amaris Adoptions work with?
We choose to show the files of families where both the husband and the wife are born again Christians and actively involved in a Bible-teaching, Protestant church. These families must also be comfortable with the concept of "open," private adoption.

Will the birth mother know our name and address?
Yes. Due to the legal process of private adoptions, the birth mother will know your name and address once you have been specifically chosen.

Are we responsible for the birth mother's pregnancy related bills?
You could be. Some mothers have insurance or Medi-Cal, but others don't. Some mothers also need financial help with housing and maternity clothes. The state of California allows the adopting parents to pay for certain pregnancy related expenses as an "act of charity."

Will we be at the hospital when the baby is born?
The birth mother will creat a Hospital Plan, which indicates her wishes for her time in the hospital. She will decide if she wants you at the hospital when the baby is born and/or, depending on the relationship you develop, whether she would like either of you in the delivery room.

Will the birth mother see the baby in the hospital?
Most likely, yes. We do encourage the mothers to hold and take pictures of their babies.

What is expected of us at the hospital?
You must remember that the hospital stay is the birth mother's time with the baby. It serves as her time to confirm she is making the right decision to place the baby for adoption and gives her and her family an opportunity say good-bye. You need to be respectful of the emotions she is going through and her wishes for her time in the hospital.
Learn to do right; seek justice. Defend the oppressed. Take up the cause of the fatherless; plead the case of the widow. Isaiah 1:17

At what point can we bring the baby home?
Babies usually go home with their adoptive parents right from the hospital within a few days of birth, once the baby has been medically discharged and the birthmother has signed the discharge paperwork.

Do some birth mothers change their minds after seeing the baby?
Yes, some do. But most birth mothers who change their minds do so before the baby is born.

How long do birth parents have to change their minds?
This varies from state to state. In California, a birth mom has 30 days after signing the consent form to change her mind. She has the option to waive the 30 days down to 2 days to terminate her rights, and most birth moms tend to sign this waiver. But she does have the option to wait the 30 days to make sure of her decision. At that point, the consent will become binding, even though the adoption isn't final in court.

After we take the baby home from the hospital, what should we do next?
Stay in close contact with your attorney to make sure that a petition of adoption is filed in Superior Court.

Is there anything we can do while we wait for the next Orientation or for a birth mother to choose us?
Yes! Read, study and check every possible source of information to learn about adoption. Never miss an opportunity to make your needs known. Talk to people such as physicians, pastors, friends, family and acquaintances about your desire for a child. Ask your Bible study or prayer meeting leader if you could share with the group. You may never know when you may be the answer to someone else's prayer. What a fantastic story to tell your child as he or she grows up; the tremendous desire you had for a child that you would go so far to find them.

What if I don't live in California – can I still work with Amaris Adoptions?
At this time, we are not able to work with adoptive families from outside of California, (although we will work with birth mothers from anywhere in the U.S.). However, this could change in the future if God leads and provides for that.

What is an adoption home study and how do we get one done?
The mandatory adoption home study is an evaluation and educational tool to help determine your preparedness to parent through adoption. It is different for each adoption as everyone has different histories and experiences that they bring into the process. It consists of paperwork, education, interviews, fingerprinting, child abuse and criminal background check, and home visits by a social worker.

If you are matched with a birth mother prior to having a home study done, the State of California will do your home study by sending a social worker from their Los Angeles office. If you get your home study done prior to being matched with a birth mother (which is generally recommended), you can get this done through a licensed adoption agency such as Nightlight Christian Adoptions or Bethany Christian Adoptions.

Will our home study ever need to be updated?
If your domestic home study is over one year old and/or you have had a child placed in your home since its completion, you will need to update your home study.

Will you notify us when you are showing our profile?
Generally, we do not notify you when we are showing your profile as the wait to be matched is often a roller coaster of emotions and we do not want to cause further distress in the event that you are not chosen. If we have a question as to whether you would like us to show your profile to a birthparent with a unique situation, we will notify you so that you can determine if you would like to be presented.

What happens when a birth parent chooses to meet us?
We will notify you and arrange for a meeting. We will only be present at the meeting if the birth mother requests that. The morning after the meeting, we will check with both parties to see how they felt the meeting went and it will then be determined if it is a match. If it is a match, you should begin to minister to the birth mother in whatever ways she is comfortable with to be there for her during the remainder of her pregnancy.

What if we are matched with a birthparent through another source?
Notify our office immediately. If your match is through an adoption agency, we will place your file on hold until we receive notification that your adoption is finalized. Once the child has been in your home one year, contact our office to discuss your future adoption plans. If your match is not through an adoption agency and you would like to utilize our services, we are happy to help provide counseling to the birthparent and guide you through the process.